Is it bread? Is it some type of fruit? Well, kind of! This unique fruit has quite the backstory. Breadfruit has had quite the journey across the high seas, but we're so glad it made its way to Australian shores because we love it.
What is Breadfruit?
Before our history lesson begins, let us tell you a little bit about what Breadfruit is. The tropical fruit belongs to the Moraceae family, along with Figs and Mulberries (Britannica, 2023). It can be eaten raw if ripe but is usually cooked to give it a softer texture and richer flavour. When cooked, it releases a sweet fragrant aroma, similar to freshly baked bread. Hence the name! The flavour of young Breadfruit is vegetal and green, a little like an Artichoke, while mature Breadfruit has a Potato-like taste.
Breadfruits are highly nutritious. They are a healthy carbohydrate that even the gluten-free club (glutards :P) can enjoy and are packed to the brim with vitamins, minerals and antioxidants. The creamy white or yellow flesh is full of fibre and doesn't spike blood sugar levels like white bread, white rice or white potatoes do. (Patagonia Provisions, 2023).
(Images courtesy of: Fruit Forest Farm)
What Can You Do With Breadfruit?
They are extremely versatile fruits. You can bake it, steam it, boil it, fry it, or grill it. The list goes on. It can be milled into gluten-free flour or added to curries or salads. Peter and Alison, our amazing Breadfruit growers from @fruitforestfarm in Tropical North Queensland, make hot chips with them!
Breadfruit trees are incredibly generous. A single tree can produce over 200 kilos of fruit in one season. They grow rapidly on trees that can reach 12 to 26 metres tall, making them one of the tallest fruit-producing trees on earth (Specialty Produce, 2023). Don't be fooled by the crazy height, though. Breadfruit trees only take three to five years to mature.
The best time for Breadfruits in Australia is between February and March (Department of Agriculture and Water Resources, 2018). They thrive in the tropics and subtropics, where 80% of the world's most hungry live (Rupp, 2021). Modern-day scientists are extensively studying this special fruit as a nutrient-rich food source that will help reduce starvation (Specialty Produce, 2023). Especially considering the trees are so prolific. There is still so much more to learn. If you want to see them in action, check out this Instagram Reel with Director Graeme Twine.
Breadfruit's Oscar-Winning Role in the Mutiny on the Bounty!
Breadfruit had a starring role in one of the most famous mutinies in history. Does the mutiny on The Bounty ring any bells? If not, we are here to give you a quick history lesson.
Throwing all the way back to 1787, a man named William Bligh captained the HMS Bounty as ordered by the British crown to gather Breadfruit trees (Specialty Produce, 2023). So why did he want these trees in the first place? Well, Botanist Joseph Banks recognised Breadfruit as a cheap and high-energy food source for enslaved people on the sugar plantations of the British West Indies (Rupp, 2021).
The ship then set sail for Tahiti. Ahoy! After a long ten-month journey and a few sea shanties, it was time for the fruit to be transported. However, the crew members had come to love their new Tahitian life and had no interest in leaving the island (Specialty Produce, 2023). So, being forced onto the ship by Lieutenant Bligh was not taken well, and he began punishing them for their lack of discipline which caused even more tension (Rupp, 2021). Rupp, 2021, recounts that the exact cause of the mutiny is unknown. However, we know that the crew was divided, and eventually, mutineers forced Lieutenant Bligh and 18 others onto a separate boat. They even dumped the Breadfruits into the ocean. But, hey, we hear fish love it!
(Courtesy of: Yours Retro)
It wasn't until journey number two in 1791 that 1,771 Breadfruit trees were bought to the West Indies (Specialty Produce, 2023). In 1793, the trees were planted in Jamaica and St. Vincent, and rumours are circulating that one of those trees is still thriving on the island of Jamaica (Specialty Produce, 2023).
How Did Breadfruit End Up in Australia?
After all that hassle, West Indies locales didn't exactly embrace the fruit and only ate it if there was nothing better on offer (Pierce, 2022). Forty years later, the fruit began to gain widespread acceptance in islands everywhere and is now grown in over 90 countries (Pierce, 2022). Breadfruit was introduced to Far North Queensland by Samoan missionaries from the Pacific Islands, where it had become a staple diet (Australian Tropical Foods, 2023).
Our Amazing Breadfruit Farmers!
As mentioned above, Peter and Alison Salleras' are third-generation farmers and proud owners of Fruit Forest Farm in Far North Queensland. They're among Australia's most incredible tropical fruit growers, and their passion for the natural environment is admirable. They share their extensive knowledge of fruit farming, rainforest and heritage and unique and innovative growing style with the public through guided tours of their 220-acre farm. See a mini tour on our Instagram here.
We are beyond grateful and proud to source wonderful and unique produce from their farm, including Jackfruit, Abiu, Sapodilla, Nam Nam, Durian, and more.. It's an honour to work with knowledgeable growers who love what they do. If you're keen to hear more about Fruit Forest Farm, click here to listen to our Prodcast episode with Pete!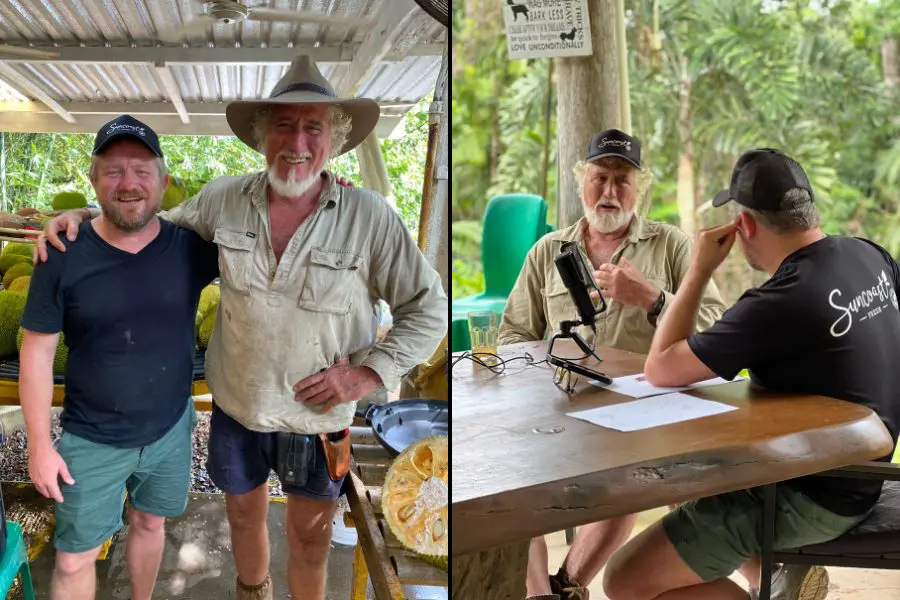 Want to try Breadfruit? Please speak to your Account Manager. Haven't got Wholesale Account with Suncoast Fresh? Feel free to reach out to us here.
References:
Australian Tropical Foods. (2023). Breadfruit. AustralianTropicalFoods.com. Retrieved February 17, 2023, from https://australiantropicalfoods.com/index.php/exotic-fruits/breadfruit/
Department of Agriculture and Water Resources. (2018, October). Biosecurity Fact sheet: Breadfruit from Fiji, Samoa and Tonga. Biosecurity Fact Sheet: Breadfruit from Fiji, Samoa and Tonga – DAFF. Retrieved February 17, 2023, from https://www.agriculture.gov.au/biosecurity-trade/policy/risk-analysis/plant/breadfruit-pacific/factsheet#:~:text=Breadfruit%20production%20in%20Australia%20is,occurring%20in%20February%20and%20March
Patagonia Provisions. (2023). A Brief but Amazing History of Breadfruit. Patagonia Provisions. Retrieved February 17, 2023, from https://www.patagoniaprovisions.com/blogs/stories/a-brief-but-amazing-history-of-breadfruit
Pierce, S. S. (2022, March 22). What is breadfruit: Where does breadfruit come from. Gardening Know How. Retrieved February 17, 2023, from https://blog.gardeningknowhow.com/tbt/learn-about-history-of-breadfruit/
Rupp, R. (2021, May 3). Breadfruit and 'the bounty' that brought it across the Ocean. Culture. Retrieved February 17, 2023, from https://www.nationalgeographic.com/culture/article/breadfruit-and-the-bounty-that-brought-it-across-the-ocean
Specialty Produce. (2023). Breadfruit. Information, Recipes and Facts. Retrieved February 17, 2023, from https://specialtyproduce.com/produce/Breadfruit_8746.php